Concrete Division
Concrete is our specialty. At JMS, we're a local leader in concrete contracting throughout the Grande Prairie region. With well over 100 projects completed in a variety of industries, we complete both technically challenging and design-centred concrete projects.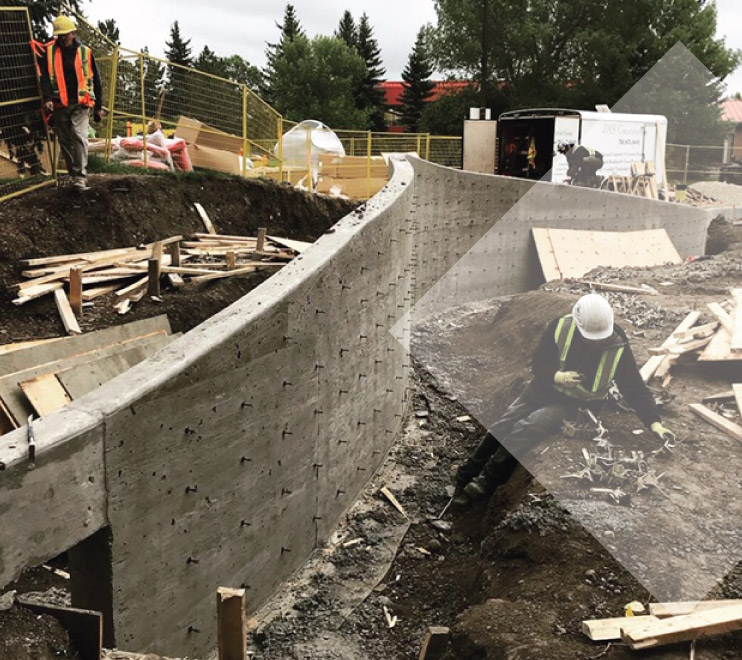 Quality, Experience & Creativity
Being technically adept results in the greatest variety of possibilities. We complete fully customized concrete projects, including decorative concrete for your home or business' interior or exterior.
Beyond using our talents for creative concrete projects, our team completes structural, architectural, and flatwork concrete with ease. We use industry experience, innovation, and a strict, company-developed quality control program for effective and timely completion of the largest jobs.
Concrete For Every Industry
JMS has completed over 100 projects in the Grande Prairie and its surrounding areas alone. The breadth of these projects has expanded through multiple industries, including oil and gas, manufacturing, municipal, infrastructure, institutional, commercial and residential sectors.
Specific Services
Concrete is the pinnacle for possibilities. Since it can be used for a variety of purposes, its applications go beyond what you might normally expect. Some of our main concrete division services include:
Industrial Concrete
Commercial Concrete
Flatwork
Decorative
Foundation and Beams
Structural Slabs
Vertical Concrete Cores and Shafts
Grade Beams
Slabs-on-grade
Piling
Suspended Slabs
Sidewalks
Retaining walls
Aprons
ICF
Our full capabilities extend far beyond this list. Start a conversation with our team at 780-876-8491 or admin@jmsconstruction.ca to learn more.